Hej!
What a weekend!
David and I went to WonderCon for the Lights Out marketing and first reveal of the Lights Out trailer and the internet went bonkers.
Let's take a look at all the shenanigans we were up to!
(David and I even made t-shirts!)


But first things first: The trailer!
It feels really great that there's actually proof of this movie out in the world now. And that I'm in it too! AWESOME! I'll be in the beginning of the movie and as you can see in the trailer it's a big nod to the shortfilm.
The official Warner Bros upload is
here
and if you want to tweet about it, make sure to hashtag with #LightsOut.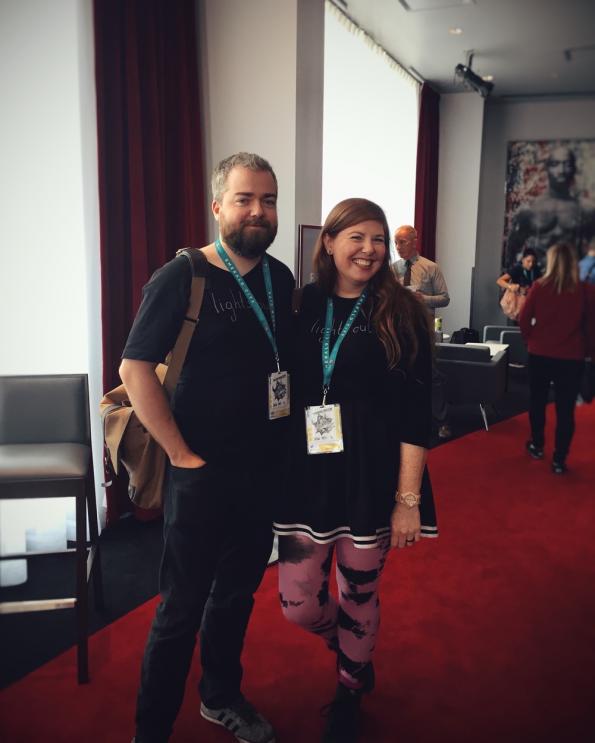 Like I mentioned earlier David and I went to Wondercon on Saturday. It was such a blast! We sat on the stage of the HUGE Microsoft Theatre and talked about how Lights Out went from a short to a feature. Maria Bello was there (she's in the movie!) and James Wan who's producing Lights Out. It was so much fun to be a part of all that.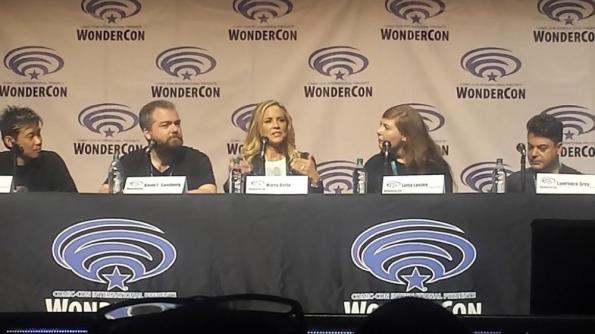 Photo Credit: Found this on twitter from audience member
Judith
.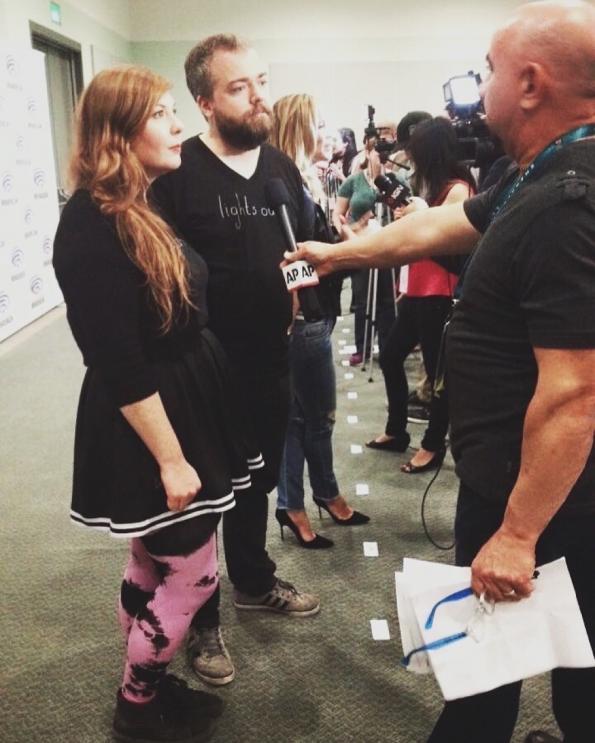 Photo by my sister.
After the panel David and I talked to a whole bunch of journalists in a Press Line. FUN and quite exhausting.
David also spoke one on one with a few journalists, and then we could roam around WonderCon! A few fans came up and talked with us and that felt so lovely! To see some of you for real.
My sister and her kids are in LA for a week. It was so great to have her in town for this crazy Hollywood experience, and to be able to show her all of it!


When the trailer was uploaded to the internet comments started to pour in.
Because this entire journey started on the internet we love to read all the comments, and we try to keep up with everything that's happening. This time it was harder because it was just EVERYWHERE!
I have seen a lot of wonderful comments mentioning me though and I thought I'd share some of them here since they've made me so happy.
I want you to know that even if my part in the Lights Out feature isn't a very big one your comments make me so happy and sure that this is just the beginning. The fact that you want to see me on the big screen, that you root for me, makes me very hopeful and warm inside. So THANK YOU for that!

I am so proud of the journey that David and I have made so far. From making 0 budget shorts in our apartment in Sweden, to being in LA turning our shortfilm into a feature film for a big Hollywood studio. It has gone so fast!
And this is just the very start. We have more shorts to make, and we have more full length movies to make. And it is so lovely to have all of you supporting us along the way.

Love
/Lotta