Hey!
Time for another Two Two Two (with bonus Two Two and Two) because it was just too long ago, right?

Two self portraits of me dancing in the evening sun:
One from an angle making it look Oh so picturesque, and one from another angle featuring a very sceptic cat and the husband being all important talking to Hollywood while I'm dancing merrily.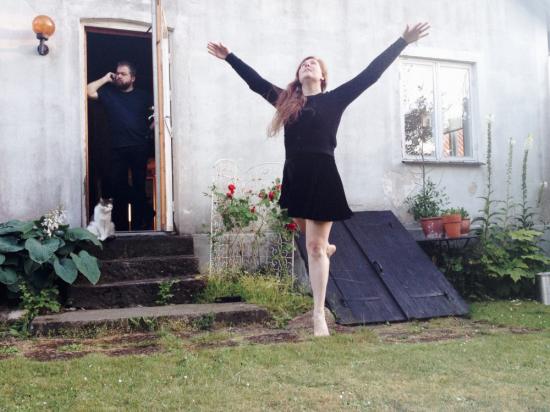 Two of me wearing my new (to me) vintage red dress:
One with my arms down, and one with my arms up (in a silent "Bring on the party invitations-pose")
Two particularly tasty meals.
One breakfast at Tjörn island, and one "lunch" at the all you can eat cookie buffet Café Annorlunda.
Two from the harbour fest in the little fishing village Vik:
One of David and me watching the party in full swing, and one just before dark when the harbour looked almost like a painting.
Two of the spectacular view of Stenshuvud:
One before the sunset, and one during the sunset.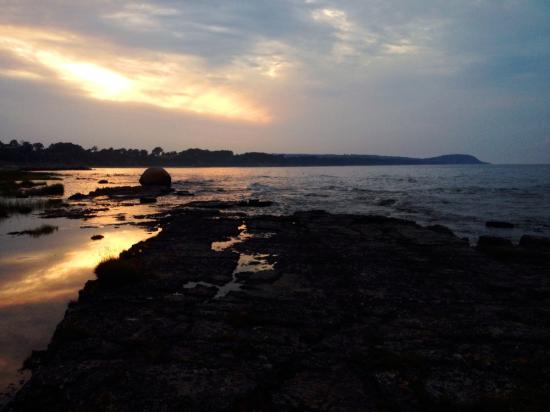 Two self portraits wearing all thrifted clothing:
One in a black shirt thrifted in Copenhagen and a skirt with buttons all the way from the floor to the waist, and one in a 90's coral H&M dress (that might have been made for a less busty lady than me, but hey! I dont care! I'm making bulging buttons a thing this season, remember where you read it first, everybody!) (Oh, and Bulging Buttons is definitely going to be the name of my future feminist punk rock band. Anyone who wants to join?)

So, I've been a no show here for the last week. Sorry for that! But I had to cuddle with Astor the Cat, smell the ocean, play yatzee with my parents, eat all the cookies, buy every vintage dress and walk hand in hand with David in gorgeous settings.
I'm back now though!

So talk to you soon again, and until then:

Tjingeling!
/Lotta