Hello hello!
Thought it was time to bring back the Wardrobe Classics or
Garderobsklassiker
, as I've called it originally.
This time I'm going to tell you all about this wine red velvet jacket that I bought in a vintage shop in Camden, London, maybe 13 years ago.
It was when I lived in a little town called Midhurst for almost a year and cleaned rooms in a very old and cute hotel. Me and my friend Lisa lived and worked together and also went to London to shop a few times. On one of those trips I found this jacket and fell in love.
It's just the perfect shape and shade.
It immediately became a favourite and even though the lining has teared up a lot of times and I've had to fix it in my own, sort of not so pretty way, it's still one of the absolute best jackets in my wardrobe.
It might be in desperate need for a new lining though. And the pockets are simply two large holes. I think there might even be a chestnut lying around in the bottom lining somewhere.... It's part of the jacket now, it lives there.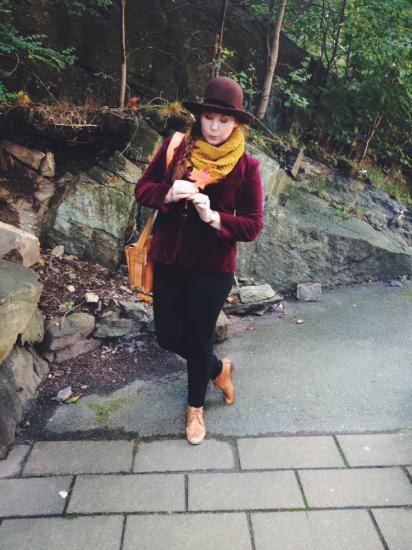 I love how some things in my wardrobe just keeps on being perfect for my style. No matter how I change what I like some pieces just fit to everything. I think that must be the core of my taste.
This velvet jacket is SO Lotta Losten and it won't ever stop being just that.
SO Lotta Losten.
Today is a foggy and grey day here in Gothenburg.
I'm having a cold but it's getting better I think. Last week I slept almost all thursday and friday and then I already felt more like myself. That was good, because we had intense theatre rehearsals all weekend. 17 hours in two days and it went really really good! Only nine days left now! So exciting!
Have you popped over to my
etsy shop
again lately? More and more pieces of jewelry (some completely new pieces too!) is finding their way into the new pretty shop. Don't forget that you get 20% off your purchase with the coupon code NEWANDFANCY, all through october.
See you soon again!
Until then:
Tjingeling!
/Lotta