Yesterday was our last day filming David's shortfilm Wallace. We filmed from 9 in the morning until 10 at night and when we came home our bodies buzzed of tiredness. We decided that tomorrow was going to be a very lazy day and the most we were going to do was go to the icecream place around the corner and buy the largest icecream on the list to celebrate.
Slept like the dead and woke up happy but with aching muscles and tired heads.
This is this day through my iPhone:
These last few days have been sweaty, hard working and quite dirty so when it was time to get dressed today (not a minute before 1 pm) I went for the most colourful, pretty outfit I could find in my wardrobe: My favourite vintage dress EVER! I've had it for over ten years and I NEVER get tired of it (for obviuos reasons because who could get tired of this flower explosion?!). I have worn it to masquearades dressed as a Flowerbed accompanied with green tights so that I could walk around asking everybody to look at my nice stalks (hehe). I have worn it to a 60's themed party and I have worn it for picnics or just an especially sunny day. I love it so much!
The bag is also second hand. Found at some fleamarket years ago. The watch is new for me, a 1950's wristwatch bought from the etsy shop
ClockworkUniverse
and the sunglasses are from
The Shade Company
.
Walked to
Lejonet & Björnen
, the icecream café close to where we live. I got a Banana split for I think the first time in my life.
It was huge. It was tasty. Best lunch ever.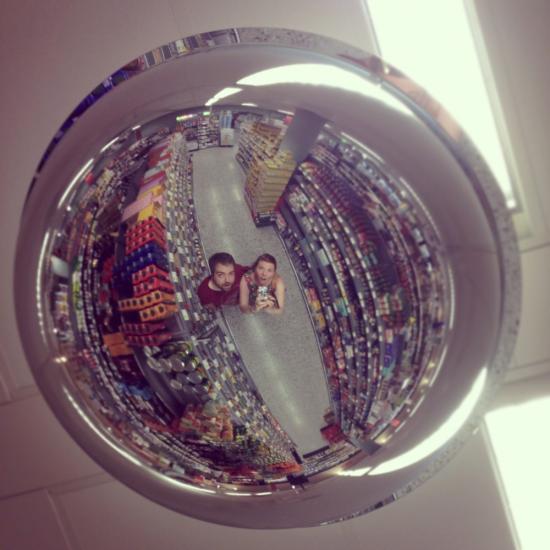 In our local food store. David and Lotta get entranced by shiny objects.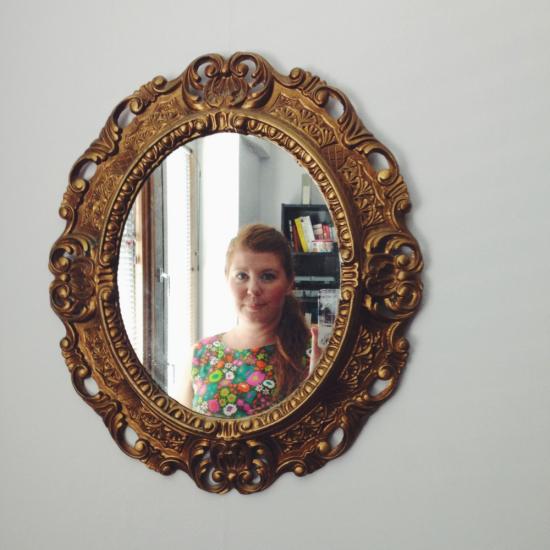 At home. Another self portrait.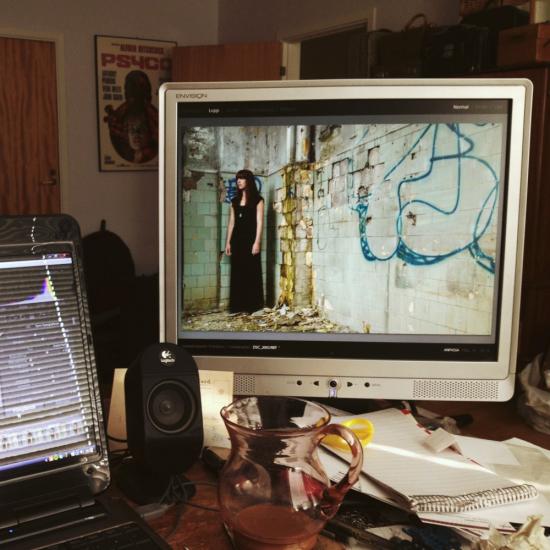 And now. Infront of the computer editing photos of
Hanna
from our day at the old Papyrus factory. They turned out amazing and I can't wait to show them to you as soon as I'm finished with the editing.
This week has been truly amazing. I've learned so much and what started out as a small acting job turned into me being acting coach, assistant director and actor all in one. It's been so very rewarding, I've learned tons of new things, and I absolutely want to do more of this.

For the rest of this day I plan to drink tea, stretched out in the sofa and watch something dumb/entertaining/funny. If I can decide on something. I might not be able to. But that's okay too.